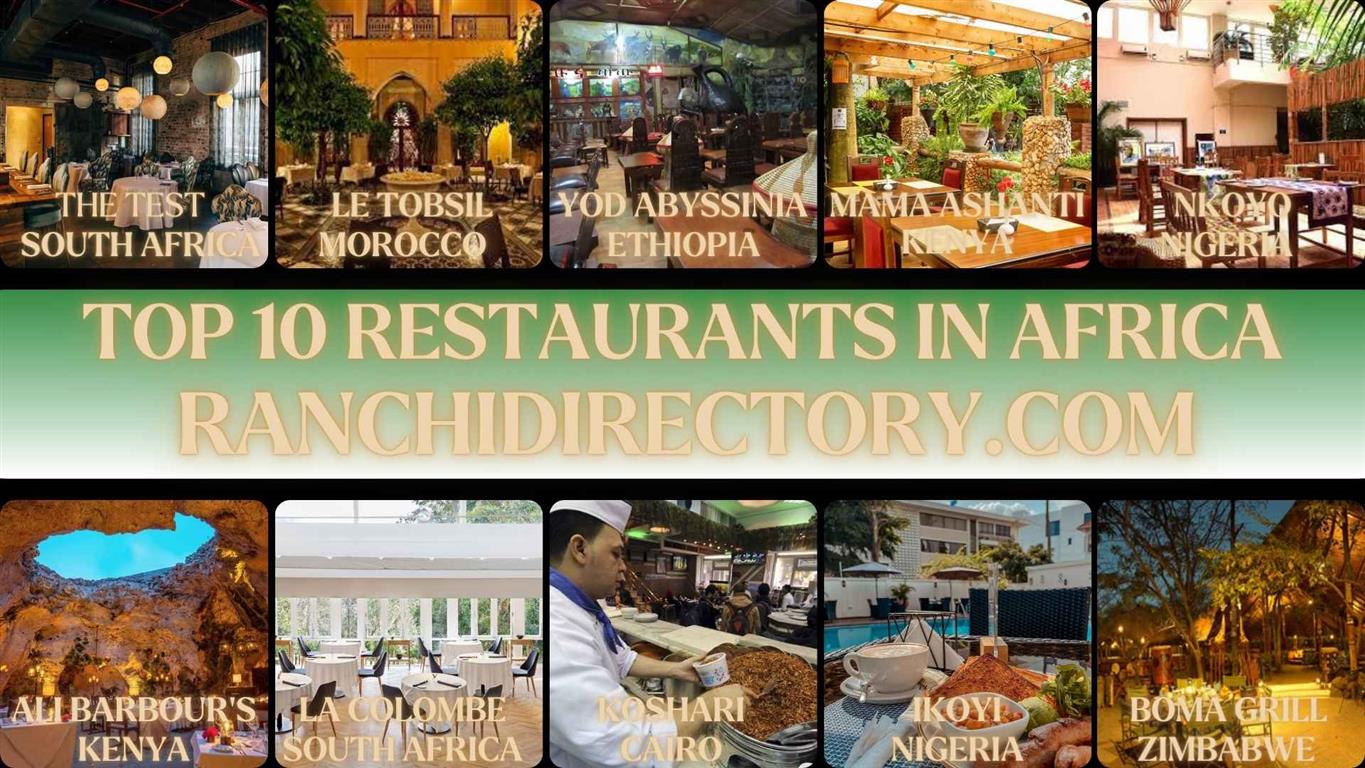 Top 10 Restaurants in Africa: A Culinary Expedition
Introduction Africa Restaurants
The African continent, known for its rich tapestry of cultures, languages, and terrains, is also a hidden gem in the culinary world. The marriage of ancient traditions with modern influences has given rise to a cuisine that's unique, flavorful, and deeply rooted in its land and history. Let's dive into the top 10 restaurants across Africa that are a testament to this rich culinary heritage.
The Test Kitchen, Cape Town, South Africa Restaurants

Set in the heart of Cape Town's trendy Woodstock neighborhood, The Test Kitchen is a culinary playground where Chef Luke Dale Roberts experiments with flavors and techniques. This best restaurant showcases South African ingredients in innovative, world-class dishes, making it a must-visit.

Restaurant Le Tobsil, Marrakech, Morocco

An enchanting culinary experience awaits you here. With traditional Moroccan lanterns casting a soft glow and aromatic tagines steaming on tables, Le Tobsil offers an authentic feast. The couscous, lamb dishes, and array of Moroccan pastries will transport you to another world.

Yod Abyssinia, Addis Ababa, Ethiopia

For a taste of Ethiopia's rich culinary and cultural tapestry, look no further. With traditional music, dances, and dishes like injera (sour flatbread) and doro wat (spicy chicken stew), the restaurant delivers a complete Ethiopian experience.

Mama Ashanti, Nairobi, Kenya

A haven for West African cuisine in East Africa, Mama Ashanti's hearty meals and vibrant atmosphere have made it a favorite. Whether it's the spicy Nigerian jollof rice or the rich Ghanaian groundnut soup, there's something to tantalize every palate.

Nkoyo, Abuja, Nigeria

Overlooking the calm waters of Jabi Lake, Nkoyo is a blend of aesthetics and taste. The restaurant, with its grand architectural design, serves a mix of Nigerian classics and continental dishes. The extensive wine list and serene ambiance make it perfect for a relaxed evening.

Ali Barbour's Cave Restaurant, Diani Beach, Kenya

Imagine dining inside a cave, under a blanket of stars, with the sound of the Indian Ocean in the background. This is precisely what Ali Barbour's offers. Specializing in seafood, the restaurant provides a once-in-a-lifetime dining experience.

La Colombe, Cape Town, South Africa Restaurants

Nestled amidst the scenic Constantia Valley, La Colombe is an epitome of contemporary fusion cuisine. With Asian and French influences, Chef Scot Kirton presents dishes that are both visually stunning and delectably sumptuous.

Koshari Street, Cairo, Egypt

Taking inspiration from Egypt's beloved street food, Koshari, this restaurant elevates the dish to gourmet standards. Layers of rice, lentils, chickpeas, crispy onions, and a spicy tomato sauce come together in a delicious harmony at Koshari Street.

Ikoyi, Lagos, Nigeria

A fusion of West African flavors and modern culinary techniques, Ikoyi is a testament to Lagos's cosmopolitan spirit. With dishes that are visually appealing and packed with flavors, the restaurant offers an avant-garde approach to traditional recipes.

Boma Grill Buffet, Victoria Falls, Zimbabwe
Boma isn't just a restaurant; it's an experience. Situated close to the majestic Victoria Falls, diners are treated to traditional Zimbabwean dishes while enjoying performances by local dancers and drummers. An evening here is both a feast for the palate and the soul.
Conclusion Africa Restaurants
Africa's culinary landscape is as vast and diverse as its geography. From the spicy tang of North African dishes to the flavorful stews of the West and the sophisticated fusion dishes of the South, the continent promises a delightful culinary journey. The top 10 restaurants listed above capture the essence of Africa's rich gastronomic scene, ensuring every diner leaves with memories of flavors that linger long after the meal is over.