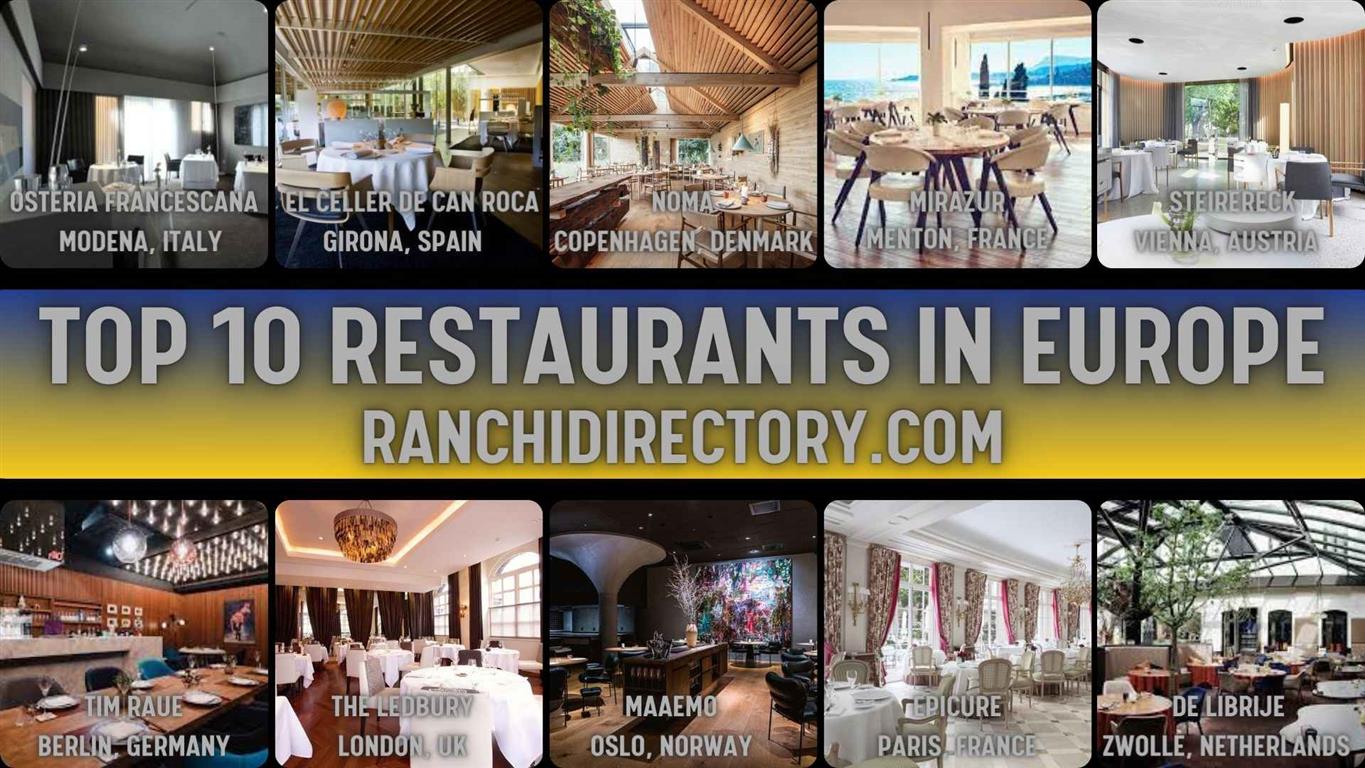 Top 10 European Restaurants to Savor in 2023
Introduction European Restaurants
Europe is an epicurean's dream. From Parisian cafes to Roman trattorias, the continent teems with culinary artistry and gastronomic adventures. In 2023, the European restaurants scene showcases a mélange of tradition and modernity, classic and avant-garde. Here's a guide to the top 10 must-visit European restaurants this year.
Osteria Francescana – Modena, Italy
Under the vision of Chef Massimo Bottura, Osteria Francescana has been a three-Michelin-star behemoth, constantly evolving its menu to meld contemporary art with traditional Italian cuisine. Known for its iconic dishes like "The Crunchy Part of the Lasagna," the restaurant is a tribute to Modena's rich culinary heritage.
El Celler de Can Roca – Girona, Spain
Operated by the Roca brothers, this establishment is synonymous with avant-garde cuisine. A regular atop global restaurant rankings, the dishes here are an ode to the Mediterranean soul. Guests experience not just a meal, but a symphony of flavors, aromas, and textures.
Noma – Copenhagen, Denmark
René Redzepi's Noma Restaurants is a Northern European culinary star, reimagining Nordic ingredients with seasonal menus. Whether it's the Seafood Season or Vegetable Season, expect unparalleled creativity and freshness.
Mirazur – Menton, France
Overlooking the French Riviera, Chef Mauro Colagreco offers a menu inspired by the sea, mountains, and gardens. As a three-Michelin-star restaurant, Mirazur lets nature dictate the day's dishes, presenting an ever-evolving gastronomic experience.
Steirereck – Vienna, Austria
Nestled in Vienna's Stadtpark, Steirereck serves modern Austrian cuisine. Chef Heinz Reitbauer focuses on locally sourced ingredients, with dishes reflecting both traditional and innovative techniques. Their cheese selection alone is a journey across Europe's finest.
Tim Raue – Berlin, Germany
Introducing a German-Asian culinary dialogue, Chef Tim Raue's eponymous restaurant showcases a tantalizing blend of Eastern techniques and German ingredients.
The Ledbury – London, United Kingdom
This Notting Hill gem, led by Chef Brett Graham, presents modern European dishes that are both visually and gastronomically impressive. With a commitment to the finest ingredients and a penchant for pairing unusual flavors, The Ledbury is a testament to London's thriving culinary scene.
Maaemo – Oslo, Norway
Chef Esben Holmboe Bang's Maaemo is an ode to Norwegian terroir. With a dedication to organic and biodynamic produce, the restaurant offers a unique tasting menu that changes with the seasons. From foraged berries to Norwegian langoustines, every dish tells a story.
Epicure – Paris, France
Located within the Hotel Le Bristol, Chef Eric Frechon's Epicure offers a quintessential Parisian dining experience. From foie gras to truffles, the menu epitomizes French luxury. The elegant setting, impeccable service, and wine selection complement the sumptuous dishes.
De Librije – Zwolle, Netherlands
Housed in a former prison, De Librije, under Chef Jonnie Boer, is a gastronomic journey celebrating Dutch cuisine. The menu, full of local produce and innovative techniques, is an exploration of flavors, textures, and scents.
Conclusion European Restaurants
These restaurants are not just about food; they offer a holistic experience that tantalizes all the senses. From architectural beauty and historical significance to impeccable service and ambiance, each establishment promises a journey you'll cherish forever. Europe, with its rich culinary heritage and innovative spirit, beckons every food enthusiast. Whether you're seeking traditional tastes or contemporary concoctions, these restaurants promise memories that linger long after the last bite.