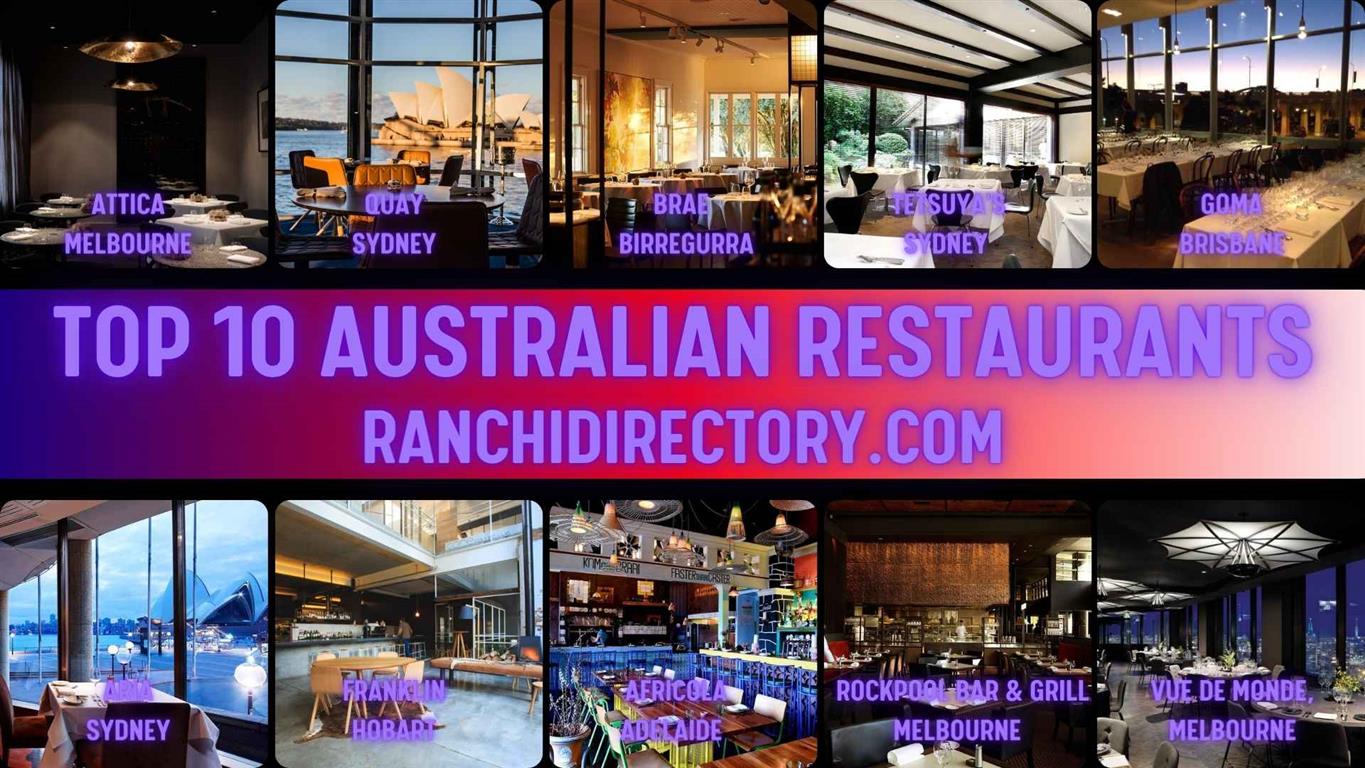 Top 10 Australian Restaurants: A Culinary Journey Down Under
Introduction Australian Restaurants
Australia, with its rich multicultural tapestry and pristine produce, is home to some of the world's most exceptional dining experiences. From the urban sophistication of Sydney to the tropical charms of Queensland, Australia offers a gastronomic journey like no other. Here's a list of the top 10 restaurants that encapsulate the essence of Australian dining.
Attica, Melbourne
Located in the trendy suburb of Ripponlea, Attica offers a modern take on Australian cuisine. Chef Ben Shewry focuses on native ingredients, bringing out flavors that are both innovative and deeply rooted in local traditions. The degustation menu is a must-try for any food lover.
Australian Restaurants Quay, Sydney
With a stunning view of the Sydney Opera House and Harbour Bridge, Quay not only offers a visual treat but also a delightful culinary experience. Chef Peter Gilmore's creations are a blend of modern techniques and local ingredients, making Quay an iconic dining destination.
Brae, Birregurra
Set amidst the lush landscapes of Victoria, Brae provides a farm-to-table experience like no other. Chef Dan Hunter uses sustainably sourced produce to create dishes that tell a story of the land and its bounty.
Tetsuya's, Sydney
Combining Japanese techniques with Australian ingredients, Tetsuya Wakuda has created a unique fusion that has earned accolades worldwide. The restaurant, set in a beautiful heritage home, promises an unforgettable dining journey.
GOMA Australian Restaurants, Brisbane
Nestled within the Queensland Gallery of Modern Art, this restaurant offers dishes as artistic as the artworks surrounding it. Their menu is inspired by seasonal produce and modern Australian flavors, with an emphasis on local seafood.
Aria, Sydney
Overlooking the scenic Sydney Harbour, Aria combines the brilliance of chefs Matt Moran and Joel Bickford. With an emphasis on fresh, local ingredients, their dishes showcase the richness of Australian produce.
Franklin, Hobart
Located in the heart of Tasmania, Franklin offers a blend of modern techniques with local ingredients. Their open kitchen, featuring a wood-fired oven, adds to the allure of this chic dining space.
Africola, Adelaide
A lively spot that offers a unique blend of African flavors with Australian ingredients, Africola is a burst of colors, tastes, and textures. Chef Duncan Welgemoed brings a playful touch to his dishes, ensuring a delightful culinary adventure.
Rockpool Bar & Grill, Melbourne
Chef Neil Perry's Rockpool is an ode to premium Australian beef. Set in a stunning Art Deco building, the restaurant promises a blend of impeccable service, a vast wine list, and a menu that celebrates the best restaurants of Australian produce.
Vue de Monde, Melbourne
Situated on the 55th floor of Melbourne's iconic Rialto building, Vue de Monde offers panoramic views of the city along with a gastronomic treat. Chef Shannon Bennett's creations are a blend of tradition and innovation, ensuring a unique dining experience.
Conclusion Australian Restaurants
Australia's culinary landscape is as diverse and vast as its territories. From modern Australian to unique fusions, the country's top restaurants offer experiences that linger, not just on the palate but in memories. Whether you're after a scenic view, an urban chic setting, or a rustic charm, Australia's top restaurants promise a gastronomic journey that celebrates the essence of this magnificent land.