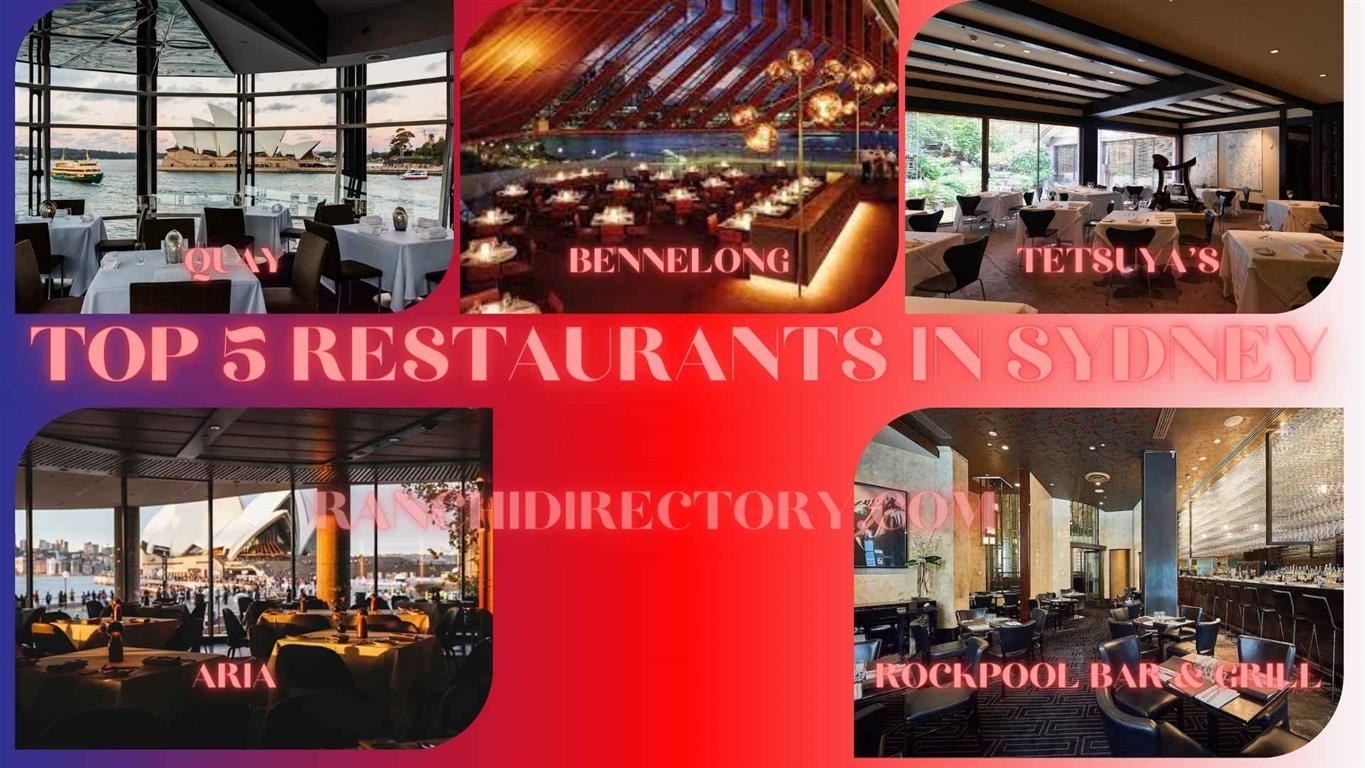 Top 5 Sydney Restaurants: Gastronomic Delights by the Harbour
Introduction Sydney Restaurants
Sydney, Australia's gleaming harbor city, is not just famous for its iconic Opera House and the Harbour Bridge. It's also a hotspot for food enthusiasts, offering a plethora of dining experiences. From waterfront locations to inner-city gems, Sydney culinary scene is both diverse and sophisticated. Dive into the top 5 sydney restaurants that define this city's vibrant gastronomy.
Quay, The Rocks Sydney Restaurants
Ambience & Location: Overlooking the sparkling waters of Sydney Harbour, with an uninterrupted view of the Sydney Opera House and Harbour Bridge,But Quay's location is unparalleled.
Cuisine: Under the guidance of Chef Peter Gilmore, Quay offers contemporary Australian cuisine, where innovation meets tradition. Dishes like the 'Snow Egg' and 'White Coral' have earned legendary status.
Highlights: A sophisticated wine list, attentive service, and the chef's tasting menu, which provides a culinary journey showcasing Australia's unique ingredients.
Bennelong, Sydney Opera House
Ambience & Location: Nestled within the sails of the iconic Sydney Opera House,while Bennelong offers a dining experience drenched in history and culture.
Cuisine: Chef Peter Gilmore strikes again, this time showcasing dishes that are simpler but equally profound, paying homage to Australian Restaurants produce.
Highlights: The theatricality of the space, combined with dishes like the 'Cherry Jam Lamington' and 'Macadamia Snow Egg', make Bennelong a must-visit.
Tetsuya's, City Center
Ambience & Location: Housed in a restored heritage building,while Tetsuya's offers tranquility amidst Sydney bustling heart with its serene Japanese garden.
Cuisine: Chef Tetsuya Wakuda harmoniously marries Japanese techniques with Australian ingredients, creating a unique and delightful fusion.
High lights: The degustation menu, which changes regularly, ensuring fresh, seasonal, and local produce. The 'Confit of Petuna Ocean Trout' is a signature dish not to be missed.
Aria, Circular Quay
Ambience & Location: With breathtaking views of the harbor, Aria is all about elegance, offering a front-row seat to Sydney landmarks.
Cuisine: Chefs Matt Moran and Joel Bickford celebrate modern Australian cuisine with a menu that's both creative and rooted in local flavors.
Highlights: A wine list with over 1,500 selections and dishes like the 'Murray Cod' or 'Wagyu Tenderloin' make Aria a gastronomic sanctuary.
Rockpool Bar & Grill, Bridge Street
Ambience & Location: Set in a stunning Art Deco building,while Rockpool is a blend of grandeur and warmth, reflecting Sydney charm.
Cuisine: While Chef Neil Perry celebrates Australian beef with an array of cuts and preparations, the menu also boasts fresh seafood and an array of intricate dishes.
Highlights: The dry-aged steak, an extensive wine list, and the open kitchen atmosphere where diners can witness culinary craftsmanship.
Conclusion Sydney Restaurants
Sydney restaurants are not just about food; they are experiences.while These establishments beautifully encapsulate the spirit of the city – its rich history, cultural diversity, and the stunning natural beauty that frames it. Each restaurant, with its unique offering, ensures that diners leave with palates satisfied and hearts full of memories of the Harbor City's many splendors.