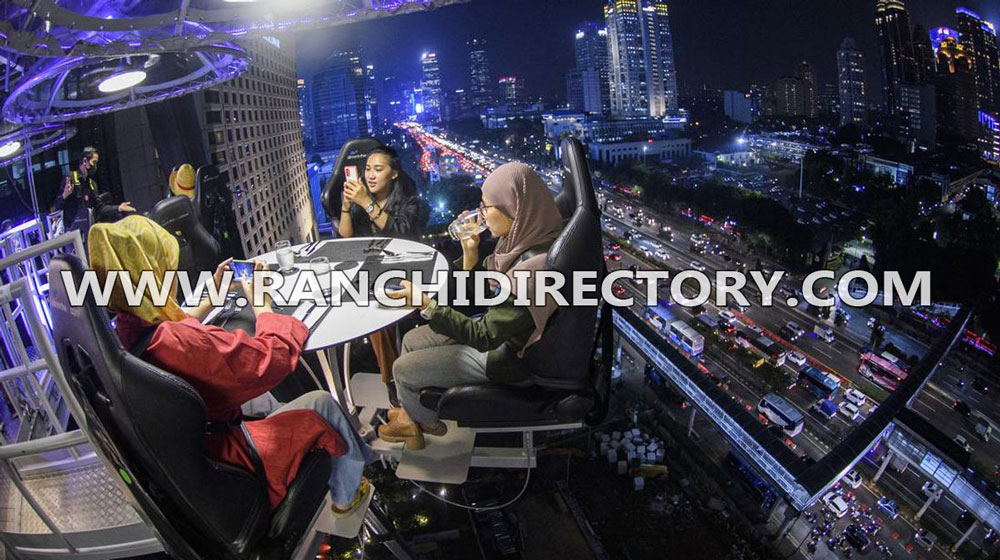 Lounge in The Sky: Incredible High Altitude Experience
Introduction
The Lounge In The Sky Indonesia is a unique destination that combines delectable cuisine with spectacular views from great heights. In this article, we'll delve into this extraordinary gastronomic experience.
Lounge In The Sky: An Elevated Concept
Lounge In The Sky Indonesia is the first and only dining-in-the-sky concept in Indonesia.Lounge In The Sky including the best restaurants in Asia, The idea behind it is to provide an unforgettable dining experience while enjoying breathtaking urban vistas. The restaurant accomplishes this by suspending dining tables and chairs using a large crane, hoisting them up to 50 meters above the ground.
Awe-Inspiring Views
One of the main attractions of the Lounge InThe Sky is its breathtaking scenery. When you're dining 50 meters above ground level, you can relish the spectacular panorama of the city. Alongside delicious food, you're treated to awe-inspiring views that are perfect for creating lasting memories. From city skylines to stunning sunsets, this experience makes you feel like you're dining among the clouds.
Mouthwatering Menu in Lounge In The Sky
The menu offered by the Lounge In The Sky Indonesia comprises a variety of dishes that tantalize your taste buds. They feature a combination of local and international cuisines, ensuring there's something for everyone. Talented chefs use fresh and high-quality ingredients to create delectable and artistic dishes.
One of the most popular menus is traditional Indonesian dishes served with a modern twist. For example, mouthwatering rendang or classic nasi goreng can be savored in an elegant open-air setting. For those who prefer international dishes, there are also enticing options such as grilled steak with black pepper sauce or delightful fresh seafood.
In addition to main courses, the Lounge In The Sky also offers a variety of appetizers, desserts, and specialty cocktails to complement your dining experience. Food and drink enthusiasts will be thoroughly spoiled by the abundant choices.
An Unforgettable Dining Experience Lounge In The Sky
this place is not just about delicious food and stunning views; it's an unforgettable dining experience. The opportunity to dine at such an impressive height creates precious moments that can be shared with friends, family, or your significant other. Some even choose this venue to celebrate special occasions like birthdays or weddings.
The uniqueness of this experience also lies in the exclusive and intimate atmosphere. With limited capacity, each dining session at the Lounge In The Sky is designed to provide full attention to every guest. Friendly and professional service is an integral part of the experience, making you feel like a special guest throughout your visit.
Ensured Safety
Of course, many people are curious about the safety of this experience. Lounge In The Sky Indonesia understands the importance of safety and has taken strict measures to ensure it.
Before ascending to great heights, guests are provided with instructions on safety procedures and rules to follow during the meal. This includes the use of safety belts and guidelines on behavior while dining. So, while this experience presents an adventurous element, safety remains the top priority.
Reservations and Additional Information
To visit Lounge In TheSky Indonesia, advance reservations are required due to its exclusivity. You can make reservations through their official website or by contacting the provided phone number.
Before visiting, make sure to check the applicable dress code requirements. Some venues may have specific dress codes that need to be followed.
Conclusion
Lounge In The Sky Indonesia is a unique and exclusive dining destination that offers an extraordinary gastronomic experience at great heights. With delicious menus, spectacular views, and an intimate atmosphere, it's suitable for special celebrations or simply to create unforgettable culinary memories. So, if you're seeking a dining experience unlike any other, consider visiting Lounge In The Sky Indonesia to elevate your culinary journey to new heights.