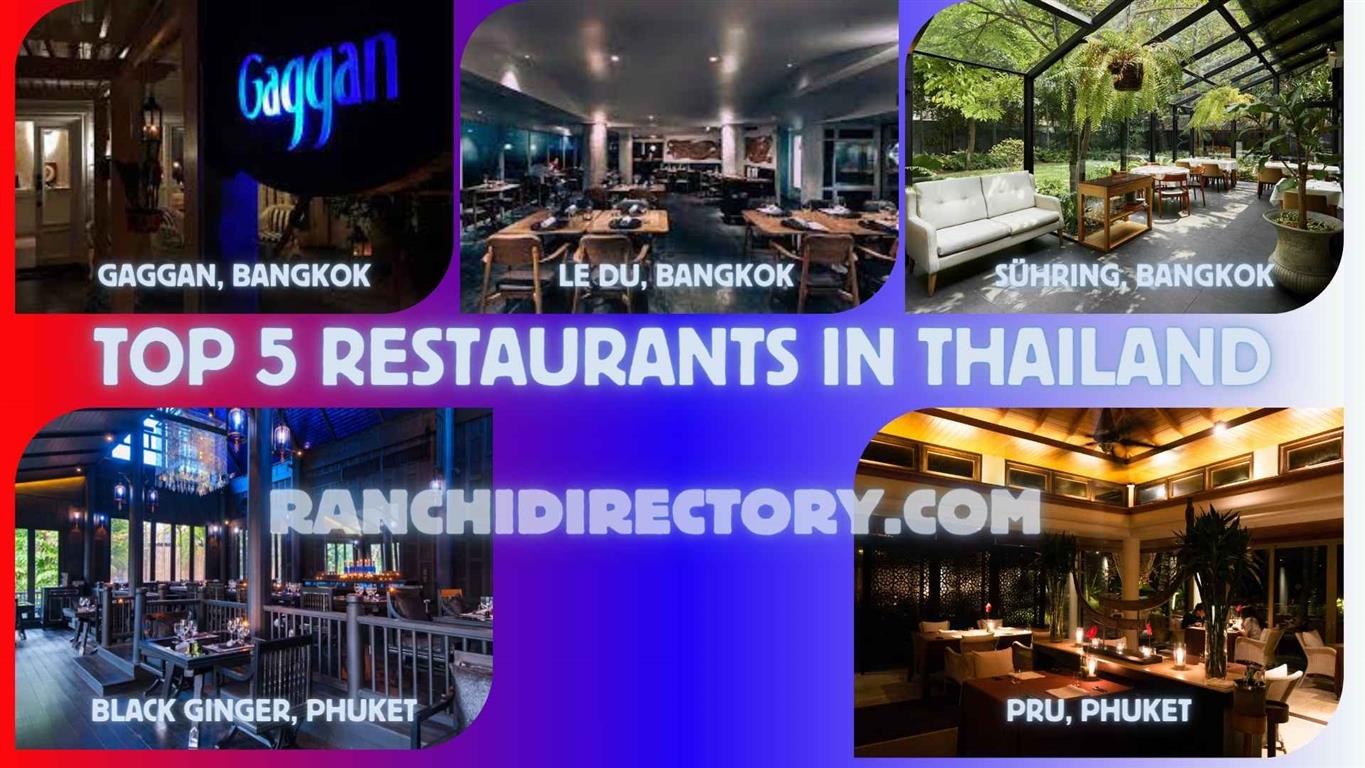 Top 5 Restaurants in Thailand: A Culinary Journey
Introduction
Thailand, a nation renowned for its vibrant culture, lush landscapes, and bustling cities, is also a haven for gastronomes. The country's diverse culinary scene offers a multitude of flavors, from spicy curries to sweet desserts. Here, we explore the top 5 restaurants in Thailand, each providing a unique and unforgettable dining experience.
Gaggan, Bangkok
Cuisine:
Progressive Indian Gaggan, situated in the heart of Bangkok, has consistently been ranked as one of the best restaurants in Asia. Chef Gaggan Anand brings a modern twist to traditional Indian cuisine, creating innovative dishes that tantalize the taste buds. The restaurant's tasting menu is a culinary masterpiece, featuring unique combinations of textures, flavors, and presentation. The intimate setting and impeccable service make Gaggan a must-visit for food enthusiasts seeking a luxurious dining experience.
Le Du, Bangkok
Cuisine:
Modern Thai Nestled in Bangkok's bustling culinary scene, Le Du is a gem that combines local ingredients with contemporary cooking techniques. Chef Thitid Tassanakajohn, a native of Thailand, showcases his passion for Thai cuisine by crafting seasonal menus that highlight the country's rich gastronomic heritage. The elegant ambiance, extensive wine list, and warm hospitality complement the exquisite dishes, making Le Du a beloved destination for both locals and tourists.
Sühring, Bangkok
Cuisine:
Modern German Sühring, helmed by twin chefs Mathias and Thomas Sühring, brings a touch of German flair to Bangkok. The restaurant offers a modern interpretation of German cuisine, focusing on high-quality ingredients and sophisticated techniques. Diners can indulge in a range of delicacies, from traditional German bread to contemporary dishes with a creative twist. The serene garden setting and refined atmosphere make Sühring a tranquil escape from the city's hustle and bustle.
Black Ginger, Phuket
Cuisine:
Traditional Thai Situated in the picturesque surroundings of Phuket, Black Ginger is a culinary retreat that transports diners to a bygone era. Housed in a stunning Thai mansion, the restaurant serves authentic Thai cuisine, using recipes passed down through generations. Diners can savor the rich flavors of traditional dishes, such as Tom Yum Goong and Massaman Curry, while enjoying the tranquil ambiance of the lagoon and tropical gardens.
PRU, Phuket
Cuisine:
Farm-to-Table European PRU, short for "Plant, Raise, Understand", is Phuket's first and only Michelin-starred restaurant. Chef Jimmy Ophorst, dedicated to sustainability and locality, sources ingredients from the restaurant's organic farm and local producers. The menu features European-inspired dishes, with a focus on fresh, seasonal produce. The elegant dining room, overlooking the lush landscapes of Phuket, provides a serene backdrop for a memorable gastronomic journey.
Conclusion
Thailand's vibrant culinary scene offers a plethora of dining options for every palate. From the innovative Indian cuisine at Gaggan to the tranquil setting of Black Ginger, each restaurant on this list provides a unique and memorable dining experience. Whether you're a seasoned foodie or a casual diner, these top 5 restaurants in Thailand are sure to leave a lasting impression and elevate your culinary journey in the Land of Smiles.