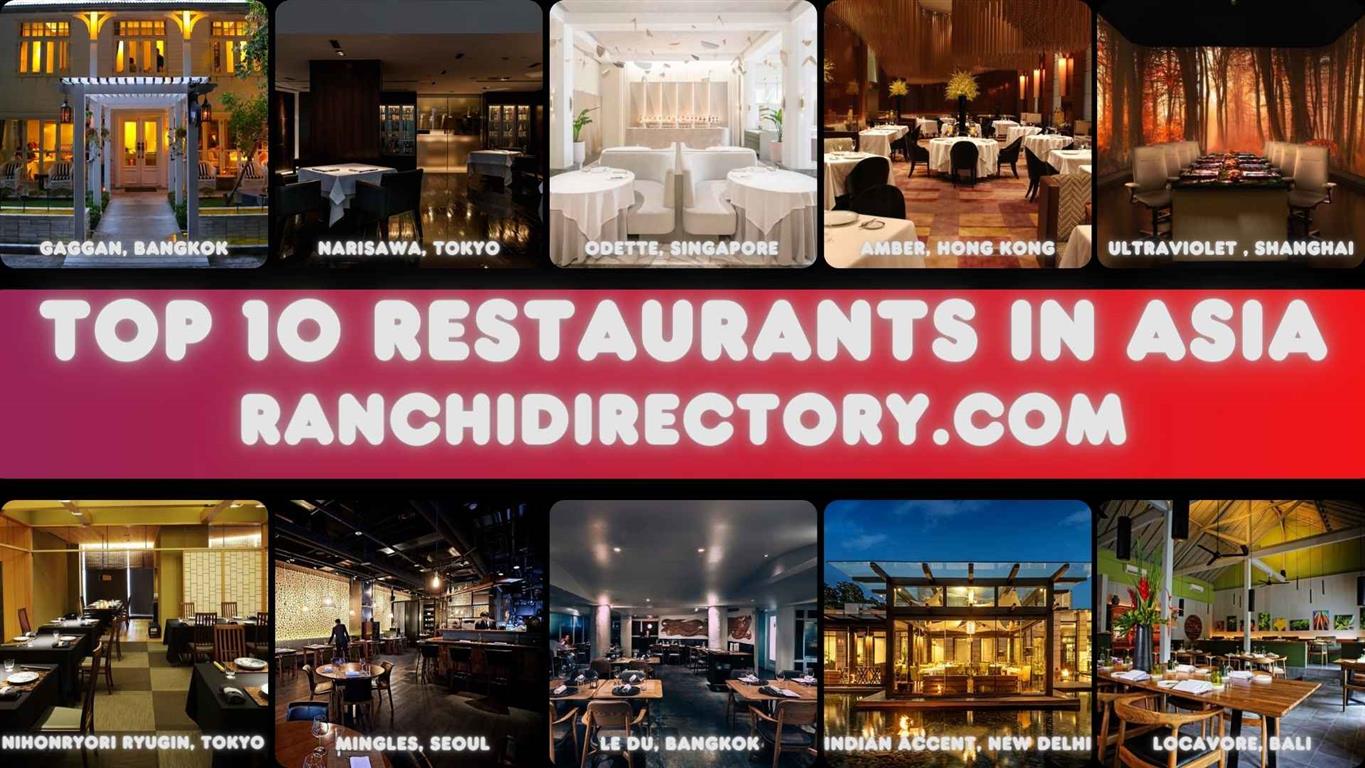 Top 10 Restaurants in Asia: A Culinary Odyssey
Introduction Asia Restaurants
Asia, with its rich tapestry of cultures, traditions, and flavors, boasts some of the world's most exquisite dining experiences. From street food stalls serving age-old recipes to luxurious restaurants at the cutting edge of culinary innovation, Asia's gastronomic landscape is both diverse and dynamic. Let's embark on a journey through the top 10 restaurants in Asia, each a beacon of culinary excellence.
Gaggan, Bangkok, Thailand

Cuisine: Progressive Indian
Highlight: Gaggan Anand's eponymous restaurant has consistently topped the list of Asia's 50 Best Restaurants. His 25-course emoji menu, where dishes are represented by emojis, promises a playful yet profound gastronomic journey.

Narisawa, Tokyo, Japan

Cuisine: Innovative Satoyama
Highlight: Chef Yoshihiro Narisawa champions sustainability by showcasing ingredients in their natural seasons. Each dish tells a story of the land, blending Japanese traditions with modern techniques.

Odette, Singapore, Asia Restaurants

Cuisine: Modern French
Highlight: Located in the iconic National Gallery Singapore, Odette is the brainchild of Chef Julien Royer. The restaurant celebrates purity and seasonality with a soft color palette and delicate flavors.

Amber, Hong Kong, Asia Restaurants

Cuisine: Modern European
Highlight: Under the guidance of Chef Richard Ekkebus, Amber offers a sensory feast, perfectly marrying European ingredients with Asian influences.

Ultraviolet by Paul Pairet, Shanghai, China

Cuisine: Avant-Garde
Highlight: More than just a restaurant, Ultraviolet offers a multi-sensory dining experience. Each course is accompanied by visuals, sounds, and scents, providing a dining experience like no other.

Nihonryori Ryugin, Tokyo, Japan

Cuisine: Modern Kaiseki
Highlight: Chef Seiji Yamamoto masterfully modernizes traditional Japanese kaiseki. With a deep respect for seasonal ingredients, the dishes are both poetic and picturesque.

Mingles, Seoul, South Korea

Cuisine: Contemporary Korean
Highlight: Chef Kang Min-goo seamlessly merges traditional Korean flavors with modern techniques. The Asia restaurants name aptly suggests the harmonious mingling of culinary elements.

Le Du, Bangkok, Thailand

Cuisine: Modern Thai
Highlight: Helmed by Chef Thitid Tassanakajohn, Le Du offers a fresh take on Thai cuisine. Derived from the Thai word for "season", Le Du's menu is a celebration of seasonal local produce.

Indian Accent, New Delhi, India

Cuisine: Progressive Indian
Highlight: Chef Manish Mehrotra reimagines Indian food with an audacious global twist. The result is an inventive menu that challenges and delights the palate.

Locavore, Bali, Indonesia

Cuisine: Contemporary Indonesian
Highlight: As the name suggests, Locavore is all about local. Chefs Eelke Plasmeijer and Ray Adriansyah source most of their ingredients from Indonesia, championing local farmers and sustainable practices.
Conclusion Asia Restaurants
Asia's culinary scene is a melting pot of flavors, traditions, and innovations. These ten best restaurants, while diverse in their offerings, share a common thread: a deep respect for ingredients, a passion for innovation, and an undying commitment to pushing culinary boundaries. Dining at any of these establishments is not just a meal but an unforgettable journey through Asia's vast culinary landscape. Whether you're a seasoned foodie or a curious traveler, these restaurants promise experiences that will linger long after the last bite.