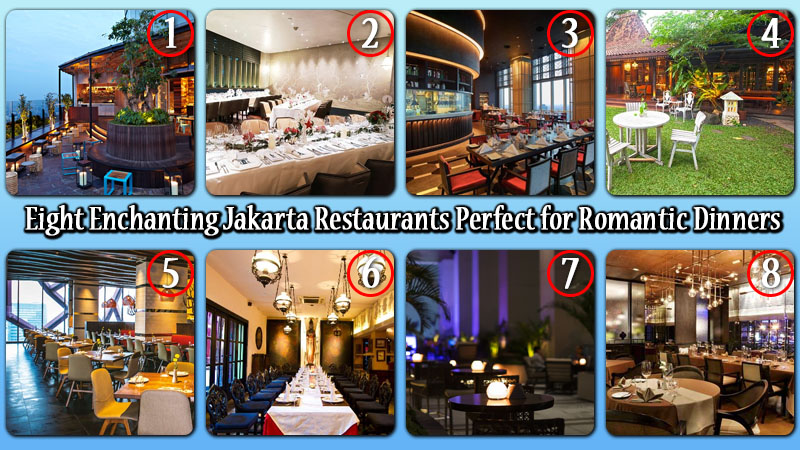 Eight Enchanting Jakarta Restaurants Perfect for Romantic Dinners
Eight Enchanting Jakarta Restaurants Perfect for Romantic Dinners – Jakarta, a metropolis radiating ceaseless vibrancy. Effortlessly mingles its bustling modernity with a rich cultural tapestry. Not only a center for business and travel, but the city also boasts an exquisite culinary scene that beguiles lovers into its intimate nooks. Let's embark on a delightful journey through eight Jakarta restaurants that. Promise not only sumptuous meals but also create the perfect setting for romantic dinners.
Skye Bar & Restaurant:
Nestled atop the BCA Tower, Skye Bar & Restaurant promises a breathtaking view of Jakarta's skyline. With outdoor seating available, couples can dine under the starlit sky, enhancing the enchanting ambiance. The culinary delights here span from flavorful Indonesian to international cuisine, ensuring that every palate finds its pleasure.
AMUZ Gourmet Restaurant:
Striking the perfect chord between elegance and intimacy, AMUZ takes its patrons on a delectable French culinary journey. With its dim lighting, plush seating, and gentle melodies wafting through the air, it certainly crafts a charming backdrop for those heart-to-heart conversations.
Altitude Grill:
Perched on the 46th floor of The Plaza, Altitude Grill offers an elevated dining experience – both figuratively and literally. The modern and elegant setting, complemented by its offering of scrumptious grills and a wide array of wines, provides an idyllic atmosphere for a romantic dinner.
Plataran Dharmawangsa:
Immerse yourself in the rich Indonesian cultural and culinary heritage at Plataran Dharmawangsa. The traditional Javanese architecture and lush greenery transport diners to a serene, romantic realm, where every dish tells a story of its indigenous roots.
Akira Back:
Incorporating a contemporary, stylish design, Akira Back offers modern Japanese cuisine with a Korean accent which is as spectacular as its ambiance. The subtle, sophisticated lighting and elegant décor make it a splendid choice for couples seeking a modish romantic dinner spot.
Lara Djonggrang:
An establishment that breathes life into Indonesian mythology and history, Lara Djonggrang creates a mystical, romantic aura. The antique, regal Indonesian décor and artifacts tell tales of the ancient Javanese kingdom, allowing couples to dine amidst tales of legendary love stories.
K22 Bar:
Sitting elegantly within the Fairmont Jakarta, K22 Bar dazzles with its panoramic views of the city. The ambient lighting, cozy seating, and delectable menu of comfort food and cocktails fashion a delightful, laid-back romantic dining experience.
Cassia:
If a tranquil, Eight Enchanting Jakarta Restaurants garden dinner is what your heart desires, Cassia, with its beautifully lit garden, tranquil water features. And exquisite culinary offerings, promises an unforgettable romantic escapade. The outdoor dining experience amidst nature brings a refreshing, intimate aura that will make hearts flutter.
These restaurants not only invite patrons to revel in culinary excellence but also weave an enchanting atmosphere. Encapsulating couples in their own intimate worlds amidst the lively tapestry of Jakarta. As love blossoms amidst the soft glows, gentle tunes, and flavorful aromas. These establishments stand as silent witnesses to countless tender moments and whispered sweet nothings.
Whether it's the elevated, twinkling city lights from a high-rise, the soft, intimate glow of a secluded dining spot, or an elegant outdoor setup. Each restaurant offers its own unique charm to make your romantic dinner in Jakarta truly memorable.
In the end, a romantic dinner is not just about the food. But about creating those precious, unspoken moments that linger in memories. Jakarta, with its myriad of dining spaces, gently holds the hands of couples as they create these timeless memories, one romantic dinner at a time.