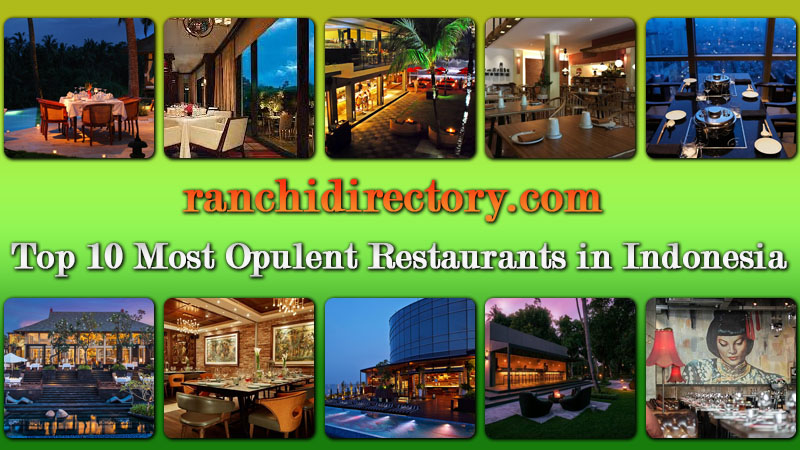 Top 10 Most Opulent Restaurants in Indonesia
Indonesia, an archipelago known for its diverse culinary heritage, also houses a myriad of luxurious dining establishments. These restaurants offer not only exquisite cuisine but also an ambiance that transports diners to a world of opulence and elegance. Here's a roundup of the top 10 most lavish restaurants scattered across the beautiful islands of Indonesia:
Cascades Restaurant, Bali
Nestled in the verdant valley of Ubud, Cascades Restaurant is a culinary haven offering a unique dining experience with breathtaking views of the surrounding tropical paradise. The restaurant boasts a sumptuous menu, blending Indonesian flavors with contemporary culinary techniques.
Amuz Gourmet, Jakarta
Situated in the heart of Jakarta, Amuz Gourmet is renowned for its French haute cuisine, offering a symphony of flavors that delight the palate. The sophisticated décor, coupled with impeccable service, makes this restaurant a beacon of luxury dining.
Teatro Gastroteque, Bali
Located in the bustling Seminyak, Teatro Gastroteque offers an intimate and opulent dining experience. With its innovative East-meets-West cuisine and lavish setting, this restaurant stands as a testament to the heights of culinary indulgence.
Nusantara by Locavore, Ubud
Priding itself on using locally sourced ingredients, Nusantara by Locavore serves an array of Indonesian dishes with a modern twist. The restaurant's rustic yet elegant ambiance perfectly complements its dedication to celebrating Indonesian culinary heritage.
Altitude Grill, Jakarta
Offering panoramic views of Jakarta's skyline, Altitude Grill is a prestigious steakhouse where diners indulge in premium cuts of meat and seafood, seasoned and cooked to perfection, in a chic and sophisticated setting.
Kayuputi Restaurant, Bali
Overlooking the crystal-clear waters of the Indian Ocean, Kayuputi Restaurant at St. Regis Bali Resort offers a blend of Asian-inspired haute cuisine. The beachfront cabanas and immaculate service make this restaurant an epitome of luxury dining.
Ristorante Aman, Jakarta
Located in the plush Aman Jakarta, Ristorante Aman serves timeless Italian cuisine in a serene and elegant setting. The restaurant's culinary masterpieces and extensive wine list offer a dining experience of unparalleled sophistication.
SKYE, Jakarta
Situated on the 56th floor of BCA Tower, SKYE provides a breathtaking dining experience with its stunning views and cosmopolitan menu. The rooftop restaurant and bar offers a diverse range of dishes, making it a haven for gastronomy enthusiasts.
Cuca Flavor, Jimbaran
Cuca Flavor, located in Jimbaran, Bali, offers a culinary journey through its tapas, cocktails, and desserts. The restaurant's focus on quality and flavor, paired with its tropical garden setting, offers a unique and luxurious dining experience.
Mama San Kitchen, Bali
With its colonial-inspired décor and vibrant atmosphere, Mama San Kitchen in Seminyak serves a variety of Asian cuisines with a contemporary flair. The artful presentation and rich flavors make it a must-visit for those seeking a luxurious dining adventure.
Each of these luxurious restaurants in Indonesia offers a unique blend of exquisite cuisine, ambiance, and service. Promising an unforgettable gastronomic journey through the archipelago's culinary landscape. Whether you crave the sophisticated flavors of international cuisine or wish to delve into the rich tapestry of local dishes, these asian restaurants cater to every discerning palate.